Video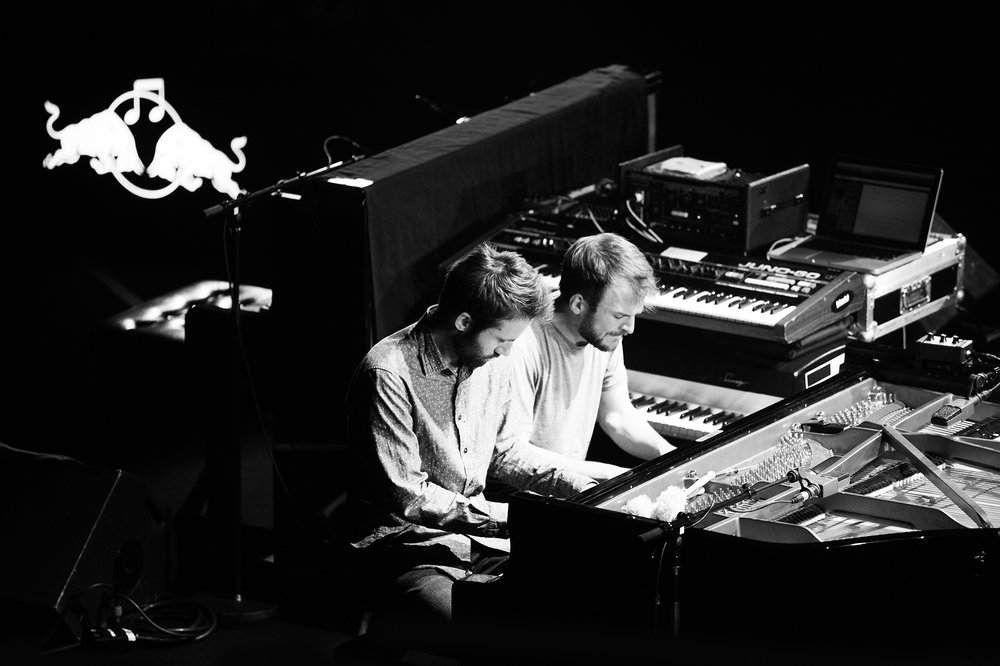 Nils Frahm and Jean Kapsa live at Villette Sonique Festival, Cité de la Musique, Philharmonie de Paris. Photo © Sarah Bastin.
Solo
Improvisation, extract from a live concert at Cinezic Musical Film Festival (2021).
Dernière fête, a piece from the album Vespera (2020)
Clair de Lune, improvisation on Gabriel Fauré's Clair de Lune (2021)
See my YouTube channel for more solo works.
Trio
L'alliance, directed by Collectif Scale (2015)
Hypnose, directed by Smith & Natlacen (2011)
Three pieces recorded live in the Matinale Culturelle on France Musique radio (2015):
L'alliance | Don't Speak Too Soon | Mimesis
Festen
Black Rain, directed by Yoann Garel (2016)
Shadow Boxing, directed by Yoann Garel (2014)
Spartacus, directed by le Jardin Imparfait (2017)
Once Upon a Time in America, directed by le Jardin Imparfait (2017)
We Are, 360 VR video directed by Benjamin Courtadon (2016)
Fidelio, short clip directed by Julie Dubos and Fahd El Jaoudi from Minsk Studio (2018)
Sarabande, short clip directed by Michel Fleau, aka Le Géant de la Vase (2018)
Sarabande (live), live at the Studio de l'Ermitage (2019)
The Bomb Run (live), live at the Studio de l'Ermitage (2019)
Rixe Club III, directed by Rixe Club, shot live at the boxing concert at La Marbrerie (04/2019)
Rixe Club IV : Cold War, directed by Rixe Club, shot live at the boxing concert at La Marbrerie (12/2019)
Overlook Hotel, directed by Alexandre Muttoni aka Opreem (2020)
Roy's Odyssey, directed by Yoann Garel (2023)
With Nils Frahm
Hammers, live at La Villette Sonique Festival, Cité de la Musique, Paris (2014)
Improvisation, directed by La Blogothèque (2014)
Others
Nature's Child, music for a short film directed by Christina Amundsen.
Live à Jazz in Marciac, with Benoit Berthe quartet (2014)
Piano au défilé de John Galliano, Couvent des Cordeliers, Paris (2011)
Live à Maastricht, with Benoit Berthe quartet and Rosario Giuliani (2013)
Live à Rome, Auditorium Parco della Musica, with Benoit Berthe quartet and Rosario Giuliani (2012)
Festival Jazz sous les Châtaigniers, with Raphaël Chevalier Duflot Rebop Quintet (2015)
Moutin Reunion Quartet, excerpt from a concert at Château de Clermont (2010)